Regular price
$216.00 AUD
Regular price
Sale price
$216.00 AUD
Unit price
per
Sale
Sold out
One of a cat's instincts is to climb because it helps them feel a sense of security to spot potential dangers around them. Give your feline friends a space of their own where they can safely leap, climb, jump and play all day. Prevent your pet from damaging furniture and appliances in your home by giving her a place she can call her own, like this beautiful Cat Climbing Tree!

Unique and Luxurious design
This Cat Climbing Tree is handcrafted using real natural wood, making each piece unique. No two cat trees are exactly alike. It is made of high-quality materials that provide a sense of luxury to your favorite pets. It has a Scandinavian appeal that easily blends into your home and makes for a decorative accent in your living room or bedroom.

Durable & Safe Structure
This luxury cat climbing tree offers your cat several options for leaping and climbing with its two-tier rattan baskets lined with soft and comfortable plush. It features a private and cozy space at the base for resting or simply hanging out. Its height gives your feline friend a sense of security and awareness of potential dangers in her surroundings. It comes with two-tier baskets screwed into sturdy structure poles in a tree trunk design that can accommodate heavier or larger cats weighing 9-11 kg. It is made of real tree branches that are properly treated to ensure safety for your pets.

Accommodates Multiple Pets
Cat lovers can't seem to have enough cats around. If you have more than one cat in your home, give each of your pets a place to hang out. This Cat Climbing Tree can accommodate multiple pets at once. Its sturdy structure can hold one cat in each basket and another one in the private space on its base where cats can rest or take naps.
Low Maintenance & Protects your home
The Cat Climbing Tree is easy to clean with its removable cushions that are machine-washable. For the other parts of the tree, simply wipe with a damp cloth. Your beloved pet will choose to climb on the Cat Climbing Tree over your expensive furniture and appliances which will prevent damage in your lovely home.
Encourages Exercise
Satisfy your cat's leaping and climbing instincts by offering multiple levels in this Cat Climbing Tree. The structure poles also serve as scratching posts to satisfy your cat's scratching urges. It also encourages physical activity by providing her two levels to leap on and jump from for endless hours of fun and play with two dangling cat toys with bells to keep them interested.

Beautiful Scandinavian Design
Minimalist or Scandinavian home decor has become a trend these days. Say no to tacky cat furniture that overpowers your living space and get this beautiful Cat Climbing Tree that also looks perfect as home decor or living room accent.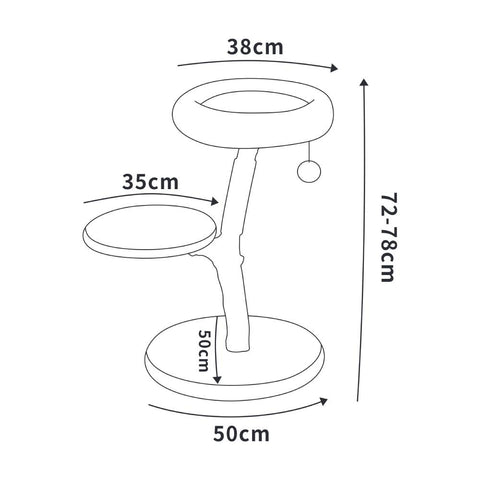 Share
View full details
Welcome to Nubeena Online
Sign up to get the latest on sales, newest products and more.
If you have any question, Please feel free to contact us.
Price Match Guarantee!